About Timber Chopper Kennels - View the Kennel Here
Max Hunter is the man who 'wrote the book' on the Timber Chopper line of dogs. Max, as most everyone knows, started the original Timber Chopper line of dogs back in the early 1960's.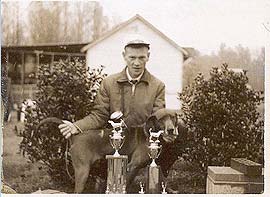 Max Hunter with True Too
Max had a dog named True Too which he bred to Grandy's Belmont Queen, and the result of that cross included a pup he named Hunter's Timber Chopper. From CH GR NT CH 'PR' Hunter's Timber Chopper numerous other dogs were bred by Max and his brother Happy Hunter. Timber Chopper sired a total of 431 pups. 27 of his pups made NT CH or GR NT CH. I first met Max and Happy when I moved to Richmond, Virginia in 1966.
At that time I was pretty new to hunting here in the flat lands with swamps, and the marsh ponds, and so forth. I had been raised a Mennonite lad from the mountains up near Stuarts Draft, Virginia. My dad was not a hunter, however my uncle Jesse Bridge was then and still is, a really dedicated bear hunter and coon hunter and he had taught me a lot regarding the world of hunting.
I have always had a lot of luck come my way, and certainly to move from Stuarts Draft to Richmond and just happen to end up renting a house from Max Hunter set the stage for the past 40 years.
My first better than average coon dog was Campbell's Timber Chip, which I bought from Max. Later, Max bred his T.C. Bell dog to my Campbell's Timber Chip and the unmatched GR NITE CH 'PR' Hunter's Famous Amos was on his way.
Max and I have spent many a sleepless night chasing the raccoons with our Timber Chopper dogs. I'm not saying that the Timber Chopper line of dogs is the only line of red dogs that are worthwhile, but I will say that we have line bred Timber Chopper to Timber Chopper and have always owned above average coon dogs. ('If the system ain't broke, don't fix it.')
Years ago I used to competition hunt quite a bit, however at present I'm strictly a pleasure hunter and like to raise puppies, started and finished dogs. Over the years I feel that the competition hunts have decreased in their value and prestige, as lots of time the hunt is won by the most outspoken handler and has nothing to do with the dogs ability to run and tree a coon with style.
In 1998 Timber Chopper Kennels decided to actually go out and buy back in some outstanding Timber Chopper females and breed for a much better pup. At that time we were breeding all of the females to the Timber Chopper Chief dog, a grandson of Hunter's Famous Amos.
A few years ago we made the decision to forgo the chains and boxes for the dogs and build them a nice heated and air conditioned kennel. Even though it was a big expense at the time, it has been well worth the investment in order to raise strong, healthy dogs.
We have certainly met a lot of nice people through our love for the dogs over the years. Thank you for viewing our web site and we hope it has enlightened you on the Timber Chopper Redbones.
Sincerely, Wayne & Amy
---
In addition to Timber Chopper Kennels, our other family run companies are:
Richmond Respiratory & Medical Supply was founded in 1990 and provides home oxygen, nebulizers, sleep disorders equipment and other durable medical equipment to patients in their homes.
Campbell Springs Farm is our family farm that is located at the same location as Timber Chopper Kennels in Cumberland County Va. www.campbellspringsfarm.com