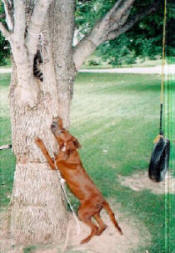 Hi this is Donnie McIntyre. I bought a female pup from you all in May. I just wanted to say thanks for the pup from the Dan and Lulu litter. Her name is Ruby. She is now six months old. She is doing well. I have hunted her with my old walker. She was treeing on a coon in the yard at 3 1/2 months old and she just started running with the old dog. I can't wait til she starts treeing her own coon, it won't be long.
Sincerely, Donnie and Jody McIntyre - Dry Ridge, KY
Wilma - Born December 11, 2002
(T.C. Connection X Scarlett)
Just wanted to send you a recent photo of our dog Wilma. How does she look?
Regards, Bryan and Kathy - Warrenton, VA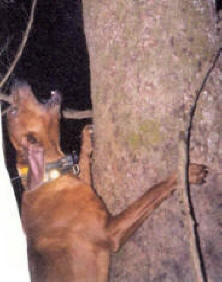 Brown's Tree Rocking Red Amos - Bo X Daisy - Born 12/18/2000
Hello Wayne, just wanted to drop you a line and let you know how much I like my Bo & Daisy male dog. He is a coon dog deluxe. I have never had him to run any trash. He is a medium nose dog and can move a track without a lot of mouth. He locates with 6 to 8 dying bawls, and then he lets the world know by treeing with an every breath bawl and chops for 20 to 30 minutes, after which he chops with every breath. He is a stay put tree dog. Amos is a dog I could win any hunt with if I could hear him. You know sometimes the older we get the less we hear. It won't be long before I'll be looking for another one like him.
Ricky Brown - Dallas, NC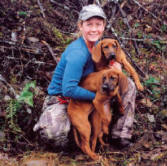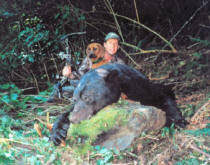 Timber Chopper Kopper
(NTCH Timber Chopper Luke x Timber Chopper Red Spice)
Chantelle with Kopper and Cinder.
1st bear for Kopper at 9 mos. Just to say hello and that we received the most beautiful looking and well behaved redbone that I have ever seen. Kopper is 11 months old and is treeing huge bears on her own. She is our pride and joy. We have ordered another and can't wait until her arrival! Take care and all the best. Chantelle and Adam Bartsch - Courtenay, British Columbia Canada
Josie, (Bo x Dixie) Aug. 2002 - Hannah, (Bo x Annie) Jan. 2003
Wayne, This is the first lion my dogs caught. They are excellent lion hounds and wonderful companions. They are pretty good on coon and bobcats too.
Sheldon Willardson -Kanab, Utah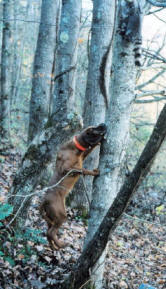 "Red Man Dan" is a puppy from Apply Valley Kate and Fireball's Timber Choppin Dan, born 6-26-03. He is on his way to being one fine coon dog. He has a beautiful bawl on track and a long bawl before going in to a chop on tree. We are very proud to be called owners of such a fine well-bred redbone hound. Here is Red Man Dan treeing on a coon hide the day he was five months old.
Ron Ramey -Van Lear, KY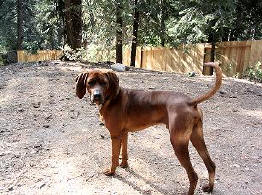 Duke La Rocque at 14-months old in Lake Tahoe, CA. Currently 67 pounds, Duke loves people and other dogs, and is full of energy. Duke loves hiking and bounding through the snow. Very friendly and playful. Mark La Rocque

Jake (Bo X Ms. Jesse)
Owned by Sam Buff Jake is a well balanced hound. I'd say about 50/50 attention/coon hound. He loves to be the center of attention but when it comes time to hunt, he's all coonhound and ready to go. I've always heard that red dogs were late starters. You can't prove it by me. Here's Jake at 11 months old telling me, "I've found him." You know what? He did."
'PR' Nunley's Indian Red Albert - Owned by Keith Nunley, Albany, IN
Al is a Timber Choppin Dan X Timber Chopper Sweet Sadie pup. This is a picture of Al treeing at 16 months
.

Banks' TC Sweet Southern Belle - Bo x Annie, born January 24, 2003
Owned by Jason & Tammy Banks, Spotsylvania, VA
Here is Belle at four months. As you can see, she loves that coon skin and I have high hopes for her this fall. I plan to pick up another pup off of Dan in a year or so. Thanks for a wonderful dog.
Duke & Luke - Owned by Eric Norris of North Carolina
Two males from Daisy X Bo, born January 31, 2002.
They started treeing with other dogs at seven months of age, and treed their first coon by themselves on 12-20-02 at ten months old!
For references you can contact them at (828) 297-4043


Digger, Owned by Johnny Staats of Ripley WV
Digger is out of Bo and Daisy.
At two years of age. For references you can contact them at (304) 273-2355.


This female pup is owned by J. Pool in Illinois. She is a full sister to our Timber Chopper Star female. Mr. Pool bought her from Joshua Guffey January 2002. Mr. Pool writes: I am sending you a picture of my female out of Fireball's Timber Choppin Dan. I bought her from Joshua Guffey in January 2002. She is out of his Guffeys Little Ramblin Red Ann. I call her Reba. I hunted her by herself untill she was 1 yr. old. She treed her first coon at 5 months old. She has treed around 40 coons by herself so far this season and has treed with another dog another 70. She has a squalling bawl on track and a chop on tree. I plan to hunt her in UKC hunts in February. Her registered name is Dan's Choppin Fireball Reba .

Timber Chopper Daisy's Anna Belle,
Timber Chopper Connection X Timber Chopper Daisy
Owned by the Stallings family,
Chesterfield, Virginia
10 weeks - Going for a truck ride.
15 weeks - Hanging around the house
Jake, at seven weeks of age. Owned by Sam Buff of North Carolina. New Baby Announcement sent out by his adoptive family! "Kim and I are pleased to announce the latest addition to our family.
Jake is now seven weeks old and enjoys eating leaves and practicing his howling. We're sure you will agree that his looks take after both his mother and father.
.
'PR' RIDGE RUNNIN TC RED LADY.
CH NT CH Timber Chopper Pine Meadow Bo X Timber Chopper Daisy
D.O.B 12/18/2000
This is a picture of 'PR' RIDGE RUNNIN TC RED LADY. D.O.B 12/18/2000. She is
out of Bo and Daisy. She treed her first coon by herself at 14 months of
age. She is a super hard tree dog, and is one of the best female red dogs I
have ever hunted with. Thanks a lot. Travis Metcalf
Rusty
Pup from Bo and Fancy
Just thought you would like to see this picture of how well my redbone (Rusty) is doing. He was only eight months old, doing real well. Tree'd 2 coons the other night all on his own. If you would like more pics, please let us know. Tony Pagano